<!– –>
The Suzuki Jimny is arguably one of the most iconic off-roading vehicles from the Japanese automaker's stable. Its small dimensions make it a nimble vehicle on rough roads as well as on urban terrains.
The current-gen Jimny boasts a more modern look than its predecessors. And with it comes a slew of paint options allowing owners to either blend in or stand out.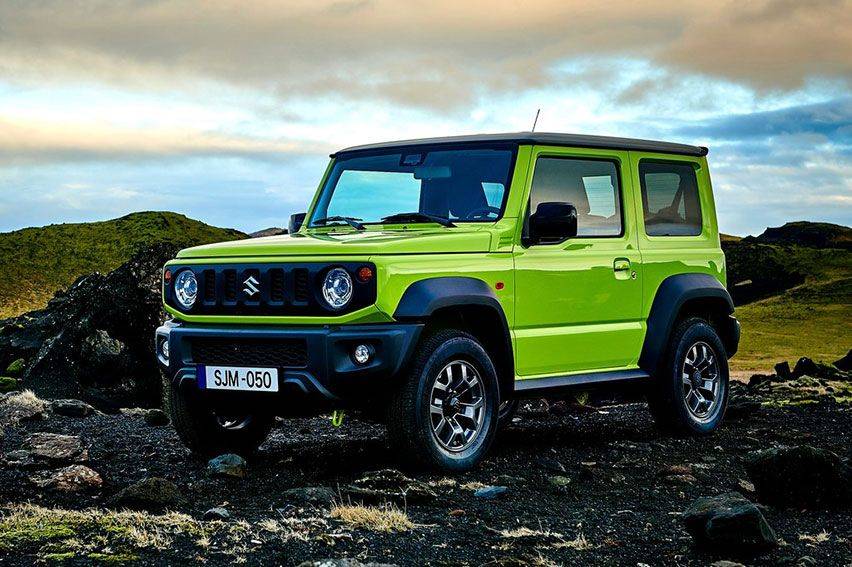 Interested to find out what these are? Join us as we check out the colors of the Suzuki Jimny.
Owners who want to keep themselves highly visible when traversing rough provincial roads or when plying the concrete thoroughfares of the metro can rely on the unique palette of Suzuki's Solid Kinetic Yellow.
This blue metallic finish is perfect for owners who like spending their weekends on the beach. Blue symbolizes calm and composure and befits individuals who love capping a busy week by relaxing to the peaceful sound of the sea.
A rather rough and rugged hue, this paint evokes the tactical look of tan-colored trucks of soldiers deployed in desert terrains. Now all you need is a clean haircut and a pair of tan Gatorz shades.
The Suzuki Jimny looks stunning in Solid Jungle Green. It looks so in its element that the first thing you think of when you the Jimny in this color is to drive outside the city.
Gray has always been a practical color as most vehicles in this paint are good at hiding dust and dirt. Busy owners who rarely have time to take their SUVs for a car wash can easily get away with it when then get a Jimny in Solid Medium Gray
White makes the Suzuki Jimny look clean and pristine. White is the perennial choice for those who use the Jimny as a family vehicle. Not only is it the safest color in the palette, it also makes the Jimny a little less intimidating.
Speaking of intimidating…
The darkest hue the Jimny has to offer, Pearl Bluish Black makes the Jimny a menacing little SUV. Its black front and rear bumpers, as well as the wheel arches, complement the pitch-black color of the Suzuki Jimny.
A lighter shade of gray, Metallic Silky Silver adds some Mercedes-Benz G-Class vibes to the small SUV born from the Land of the Rising Sun.
Its shiny silver hue adds a touch of class and sophistication to this rough and rugged mini SUV.
Suzuki is currently offering the Jimny in four variants with prices ranging from P1,095,000 to P1,215,000.
Photos from Suzuki
Also read:
Suzuki to roll out Jimny LCV in the UK
Suzuki Vitara: 4 generations of fun
King of Kei: Suzuki reaches accumulated mini-vehicle sales of 25-M units in Japan
Suzuki Jimny Promos, DP & Monthly Installment