<!– –>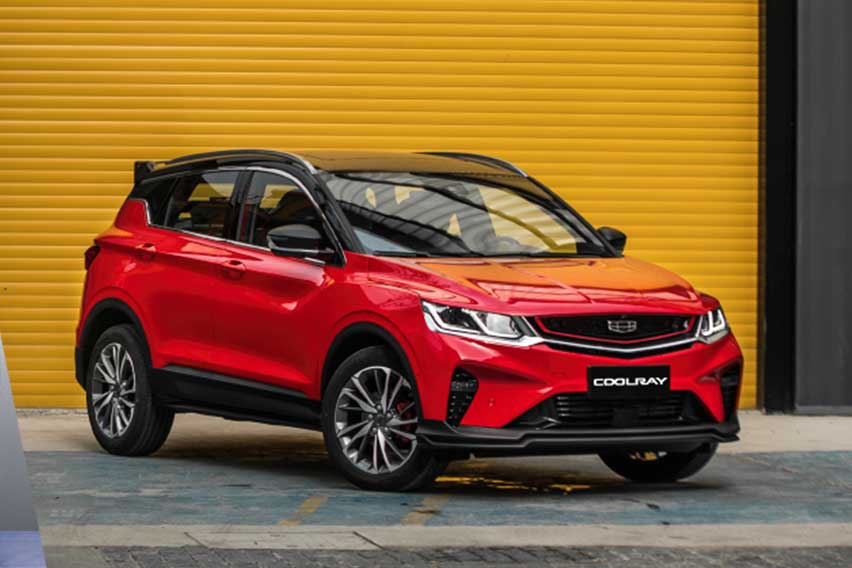 The public is warming toward the Coolray. As per Geely's tally, the Coolray was the best-seller in the subcompact 4×2 SUV segment with 1,312 units sold. And that's only for the first half of 2021; the year has three months remaining to push that figure.
What probably made consumers consider the Coolray is its exterior, which is a breath of fresh air. Up front, Geely's "Cosmos" grille connects with the sharp headlights with a chrome strip. Above the lights are pronounced fenders, which are defined by a character line that zips across the car's sides. The optional black roof further ups the Coolray's street cred.
But these 1,000-plus Coolray owners spend more time inside the car's cabin, which carries a similar snazzy ambience as the exterior.
The Coolray comes in three flavors, Sport Turbo, Premium Turbo, and Comfort Turbo, and while they share similar interior layout, each contains various interior ingredients.
With a tall center console, Geely said that such a design has been inspired by airplane cockpits. The electronic handbrake, along with other buttons for various functions, make the center console appear true to its inspiration. Another creature comfort brought by the console is the center armrest.
All Coolray cars share a six-way power driver's seat, automatic climate control, and a 10-inch "floating" touchscreen infotainment system. The infotainment allows phone mirroring and voice command. When the car is put in reverse, or parking itself, the 360-degree camera sends a live feed to the screen.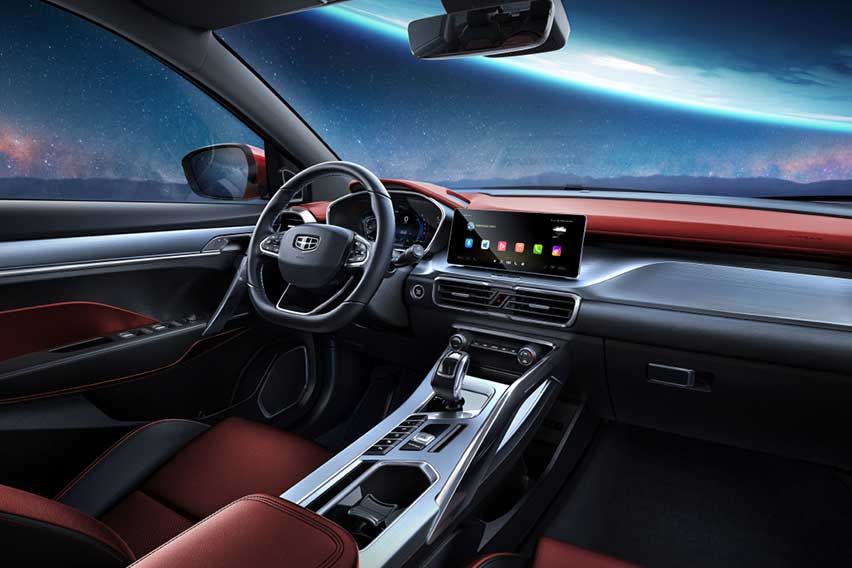 For the occupants' entertainment, the system fills the cabin with music through its six speakers. For the benefit of their health, the cabin features a CN95 filter to, well, filter out any harmful particles that may enter. The cabin is also said to be using non-toxic, water-based paint and non-volatile adhesives.
While the Coolray Comfort uses fabric seats, the Sport variety is equipped with leather chairs. Also exclusive to the Sport is the panoramic sunroof, as well as the seven-inch digital instrument panel.
The virtual instrument cluster's design can be configured three ways, depending on the driver's mood, or maybe to how late they are for a meeting. Normal, Eco, and Sport are the design themes.
Six airbags keep everyone safe, including the children who may be seated in booster seats. As for the top flavors, when the turn signals are activated, the infotainment screen displays the view of the car's blind spot.
Other safety tech the Coolray packs are Electronic Stability and Traction Control, Hill Start Assist, Hill Descent Control, and Cruise Control.
Geely also claimed that the Coolray uses the B-Segment Modular Architecture. It utilizes high-strength steel and hot-formed steel in its construction. So in the case of a direct front collision, the engine falls to the ground instead of being pushed into the car's interior.
Photos from Geely
Also read:
2020 Geely Coolray: The 3 variants in detail
2020 Geely Coolray: The pros and cons
Geely Car Models
Geely Coolray

Geely Okavango

Geely Azkarra
Geely Coolray Promos, DP & Monthly Installment